Complete your winery profile so Tasters will know how to find you.
Creating and completing your winery profile is important because it will help Tasters plan their next trip to wine country, find specific winery features that are right for them, and connect you (the winery) with tasters that are most likely to enjoy the products and services you have to offer.
NOTE: this is a year-round promotional tool that helps connect Tasters to wine they will enjoy and helps them find where to buy it, so it is important to keep information up-to-date (hours, season, new features, etc.)
Step 1: Log in & Add Staff
Log into your Management Portal and click the Organization tab.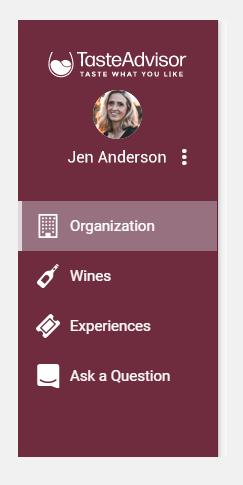 Adding Staff
Many businesses want to assign a specific person to manage winery information or handle technology. If you would like to have a member of your team set up your profile, you can invite them to the platform and grant them access to set up your winery profile.
Select the STAFF tab and you will be able to send an invite to the appropriate team member(s).

Click the INVITE STAFF button and add the email address in the pop-up window. Then click INVITE.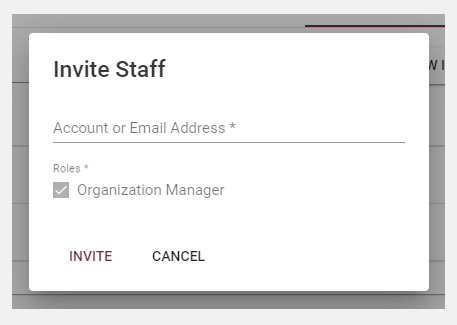 Once you have the right staff person in place, continue with the steps below to set up your winery profile.
Step 2: Add Your Photo
Select the GENERAL tab to begin. Click on the photo thumbnail to upload a photo that will represent your winery within the app. This photo appears at the top of your winery profile page and is sized to fit on lists. We recommend a photo of the winery, landscape, or other identifiable image.
Your image should be 775 pixels wide by 225 pixels high. Although the photo will be automatically sized to fit, parts of the photo will be cropped for different screen sizes. Please ensure the most important information in the centre of the photo.
Step 3: Update Your Status
Update your Status Info to let Tasters know your farmgate and hospitality season.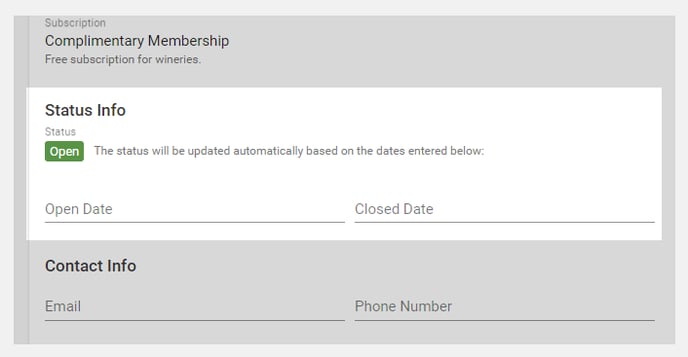 Step 4: Add Your Contact Information
Make sure your Contact Info is up-to-date.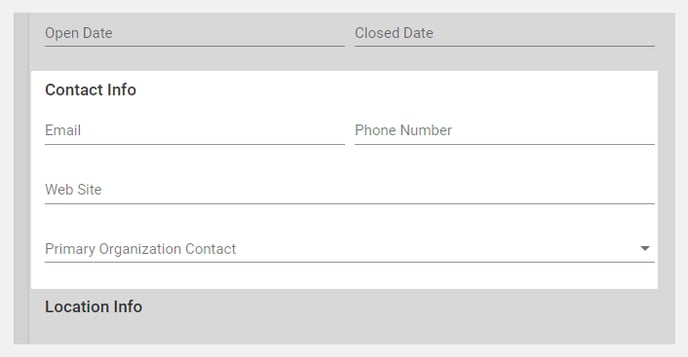 Step 5: Add Your Location Information
Add your Location Info so Tasters can find you and add you to their wine routes.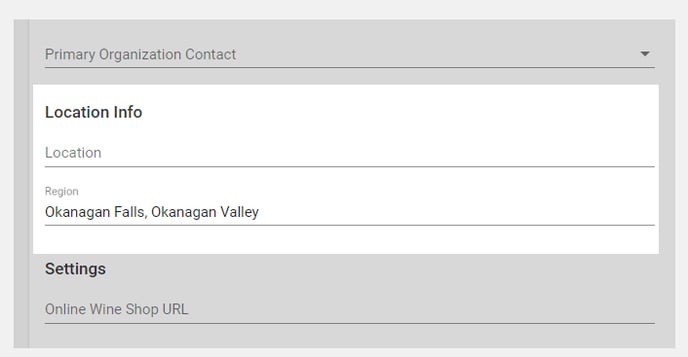 Step 5: Settings
This section is important as it directs Tasters to your website or online store, and allows you to inform them of the languages you support and how many visitors you can accommodate at one time. After entering information, click SAVE.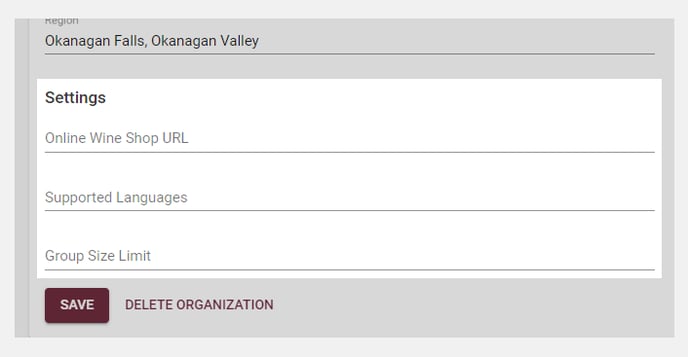 Step 6: Add Your Classifications
Classifications enable Tasters to find wineries that meet specific consumer preferences (i.e. Organic, VQA, Family Owned, etc.). Click DONE after choosing any of the Classifications that apply to your winery.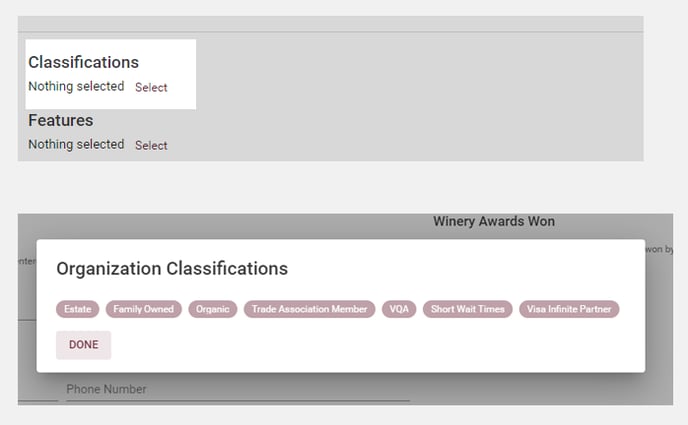 Step 7: Add Your Features
Features can be used to make specific lists and can also help Tasters find something that meets their needs (Pet friendly, picnic area, view, etc.) Choose any of the Features that apply to your winery. Click DONE.
Step 8: Create a Description for Your Winery
Many wineries use a condensed version of the "about us" section of their website. Include the most important information you'd like Tasters to know about you when they visit your profile.

Step 9: Wine Club
Let Tasters know if you have a wine club, a brief description, and who to contact if they are interested in joining.

Step 10: Add Winery Awards
Let Tasters know what awards your winery has won! This is specific to the winery and you can add wine-specific awards for each wine later.
TIP: If you don't see the award organization, you can quickly add one by selecting "Create Award Organization".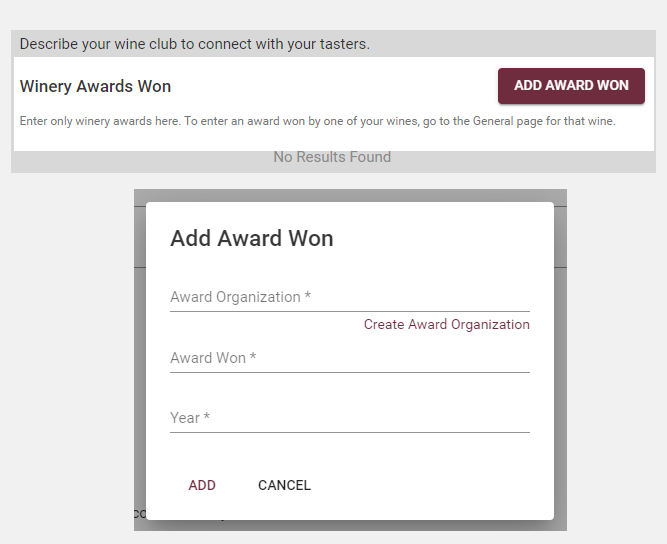 Step 11: Season and Hours of Operation
This tool is used year-round to promote the BC wine industry, so it is important to ensure your hours are up-to-date. Add the start and end date of your season as well as the hours you are open each day of the week.

Step 12: Save Your Changes
Before proceeding to other tabs, ensure you save your changes by clicking SAVE at the bottom of the page. If you cannot complete a profile in one sitting, click SAVE and go back in at another time to add more information.

Step 13: Add Your Tasting Information
Select the TASTING tab at the top of your profile and enter the information to let Tasters know if you have an open tasting room and what they can expect from a tasting.
Click Save before proceeding to a new tab to save your changes.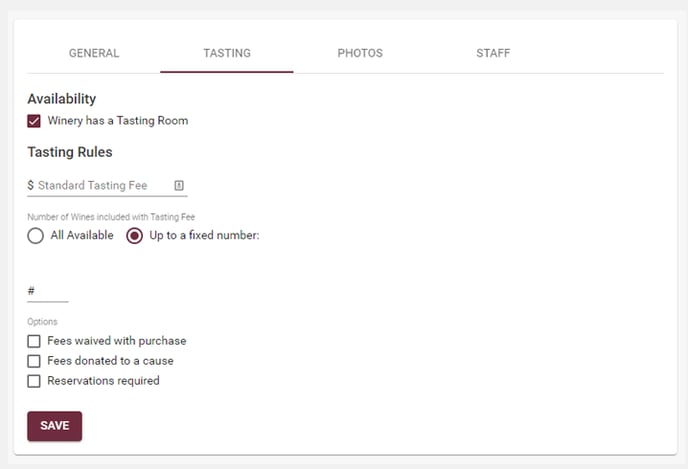 Step 14: Add Additional Photos
Select the PHOTOS tab to upload any photos you would like to share with Tasters when they visit your profile. Some examples are pictures of your staff, vineyard, tasting room, or experiences. The more you can show a Taster about your winery, the more likely they will be to choose to visit.

If you would like to remove an uploaded photo, select the kabob menu and choose Delete.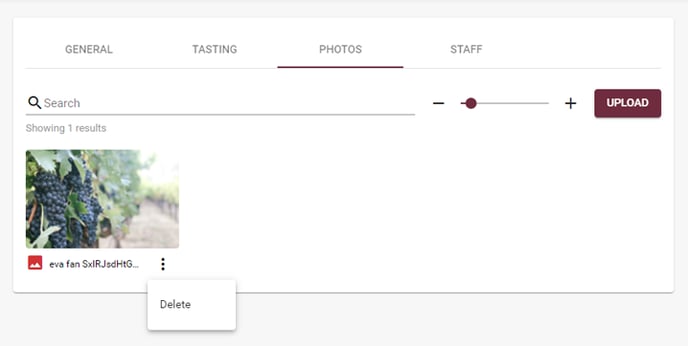 Done!
You are set up and ready to go! Make sure you invite your customers to log in and rate your winery, wines, and events.
If you have any questions or need help, please submit a ticket and our team will get back to you.