Complete a profile for each wine so that we can match them to the ideal Taster and help you sell more.
Creating and completing a profile for each of your wines is important because we match consumers' individual taste preferences to a database of all BC wines. By making sure each wine is complete and up-to-date, you ensure that your wine will be matched to the right Tasters. Each wine links to a list of places it's sold, allowing wine drinkers who match your wine to easily find where to purchase it.
Importantly, this is a year-round promotional tool that helps connect Tasters to wine they will enjoy and helps them find where to buy it, so it is important to keep information current, including if a wine is sold out or a new vintage is released.
Step 1: Log in
Log into your Management Portal and click the Wines tab. From this screen you will be able to see all of the wines that you already have in your profile. By clicking on an existing wine, you can go in and update information using the same steps below, including indicating if it is sold-out (Step 5).

Step 2: Create Wine
Click on the CREATE WINE button to add a wine that currently is not on your profile, so that it can start being recommended to the right customer.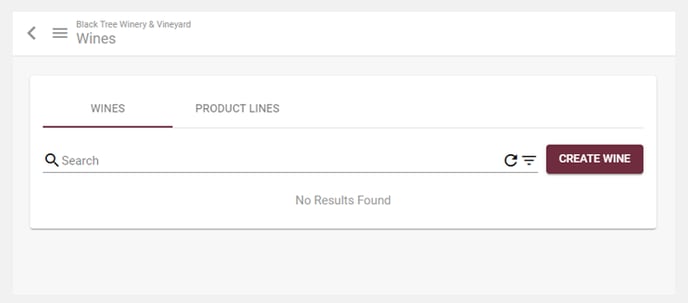 Step 3: Setup Basic Information
A pop-up will appear on your screen where you will be asked to enter the vintage and if this is a new or existing product line.
Existing: If this is a new vintage of an existing product line, check this option and use the drop-down box to indicate the product line before clicking, "create".
New: If this is the first vintage of a wine, you will be asked to enter the name for this product line, enter the year of first production, and select the wine type before clicking CREATE.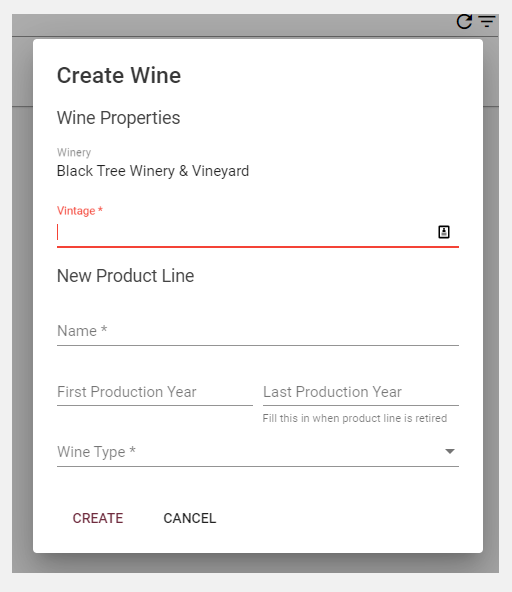 Step 4: Add Your Photo
Select the GENERAL tab to begin. Click on the photo thumbnail to upload a photo that will represent your wine within the app. This photo appears at the top of your wine profile page and is sized to fit on lists. We recommend a photo of the bottle, preferably on a white or light background.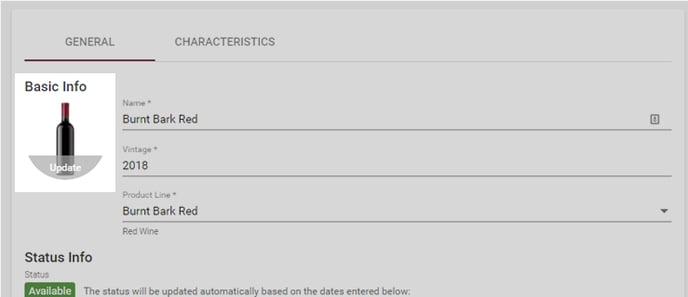 Step 5: Update Your Status
It is important to let Tasters know when your wine will be available to the public or if it is sold out and no longer available for purchase.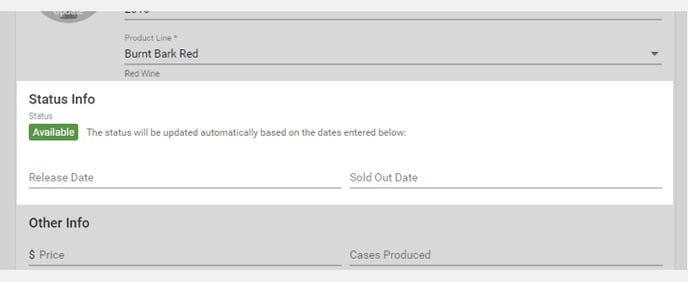 Step 6: Other Info
Let customers know how much a bottle costs, how many cases were produced, and if you suggest a minimum or maximum cellaring time. There is also a check box that will allow you to inform customers if this particular wine is available in the tasting room.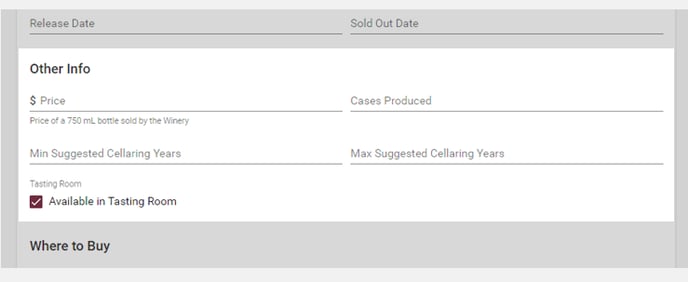 Step 7: Where to Buy
If you have an online store, copy and paste the link to this specific wine here so that customers can easily start shopping from you directly.

Step 8: Add Your Classifications
Classifications enable Tasters to find wines that meet specific consumer preferences (i.e. Organic, VQA, vegan, etc.). Click DONE after choosing any of the Classifications that apply to your wine.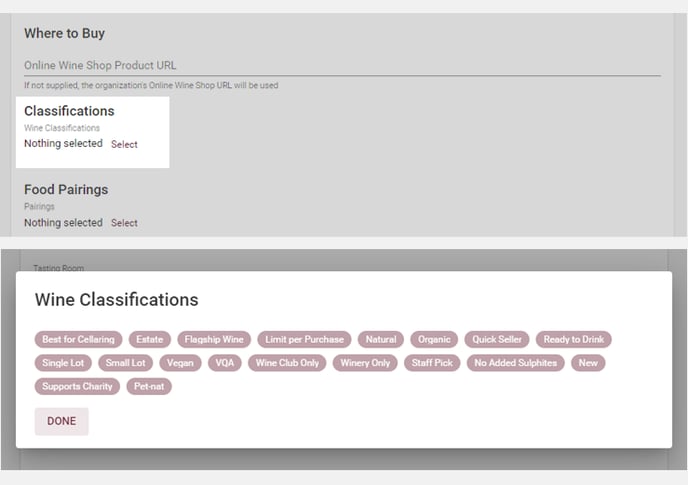 Step 9: Food Pairings
Help Tasters find wines that pair with specific foods and let customers know which food items pair best with the wine that has been suggested to them.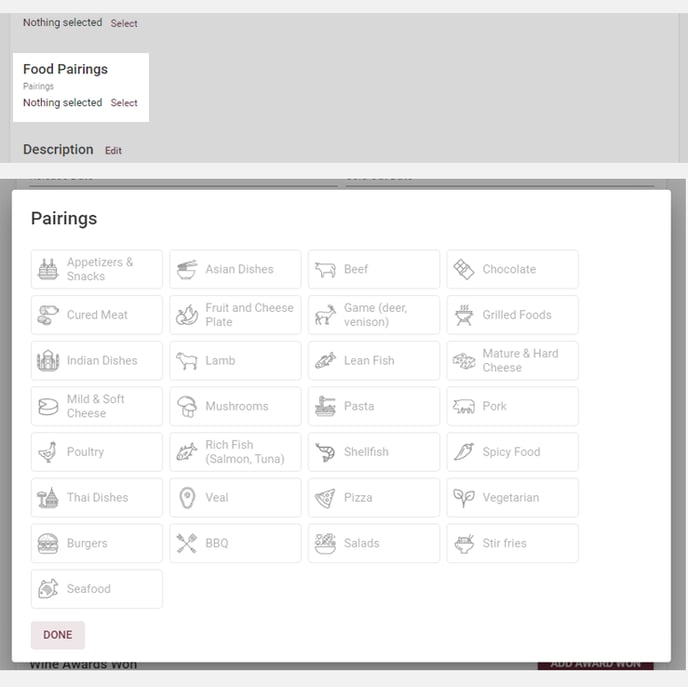 Step 10: Create a Description
Include a short description about your wine that includes things that you want Tasters to know about this specific wine. This could be the winemaker's notes, tasting notes, or just a brief overview of the wine.

Step 11: Add Awards
Make sure Tasters can search for your wine based on the awards each wine has won. This section will enable you to select the award organization, award won, and the year. If you don't see the award organization, you can quickly add one by selecting "Create Award Organization".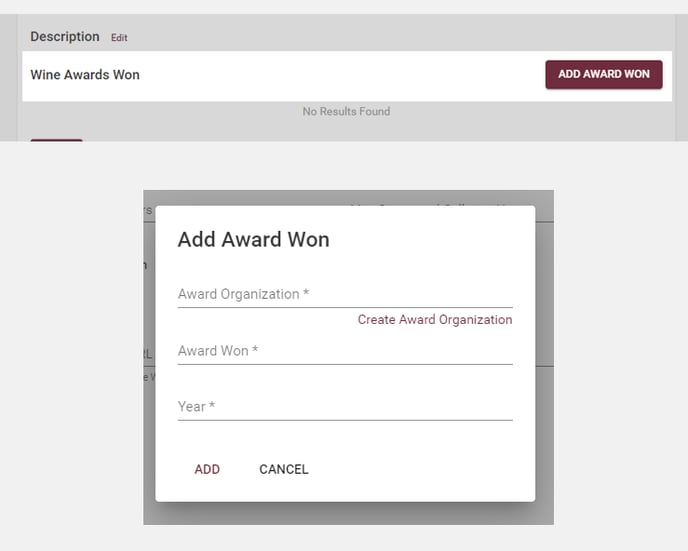 Step 12: Save Your Changes
Before proceeding to other tabs, ensure you save your changes by clicking Save at the bottom of the page.
Step 13: Add Wine Characteristics
Select the CHARACTERISTICS tab at the top of your profile.
It is extremely important to complete as much as possible of this section so that the platform can recommend your wine to the right Tasters, allowing them to purchase wine that they will personally enjoy.

Step 14: Base Characteristics
Alcohol: Enter the alcohol % indicated in the bottle
Sweetness: Enter the RS using the number of grams per litre.
Acidity: Enter the TA (total acidity) using number of grams per litre.
Body: On a scale of 1-5, indicate the body of this wine:

Light = 1
Light-Medium = 2
Medium = 3
Medium-Full = 4
Full = 5

Tannins: On a scale of 1-5, indicate the tannin level of this wine:

Low or None = 1
Medium-Low= 2
Medium = 3
Medium-High = 4
High = 5

Colour: From the drop-down menu, select the colour that most closely describes this wine.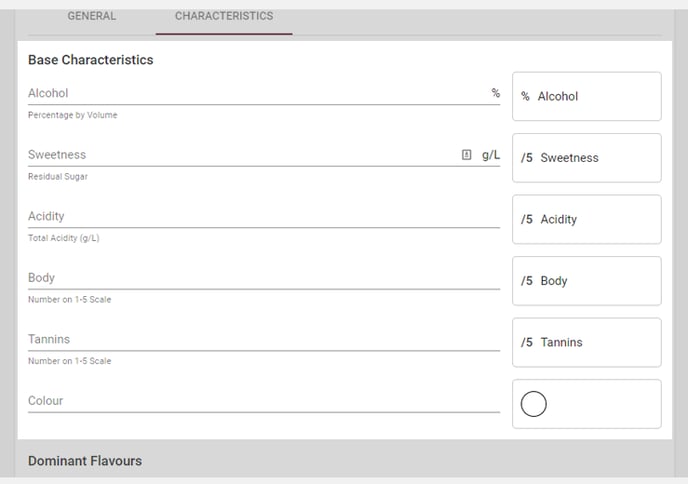 Step 15: Dominant Flavours
Select the two most dominant flavours that a typical consumer will experience when they try your wine.

Step 16: Additional Flavours
In this section, add all of the additional flavours that this wine exhibits. If you do not see a flavor listed, click CREATE FLAVOUR and type in your flavour. Click DONE.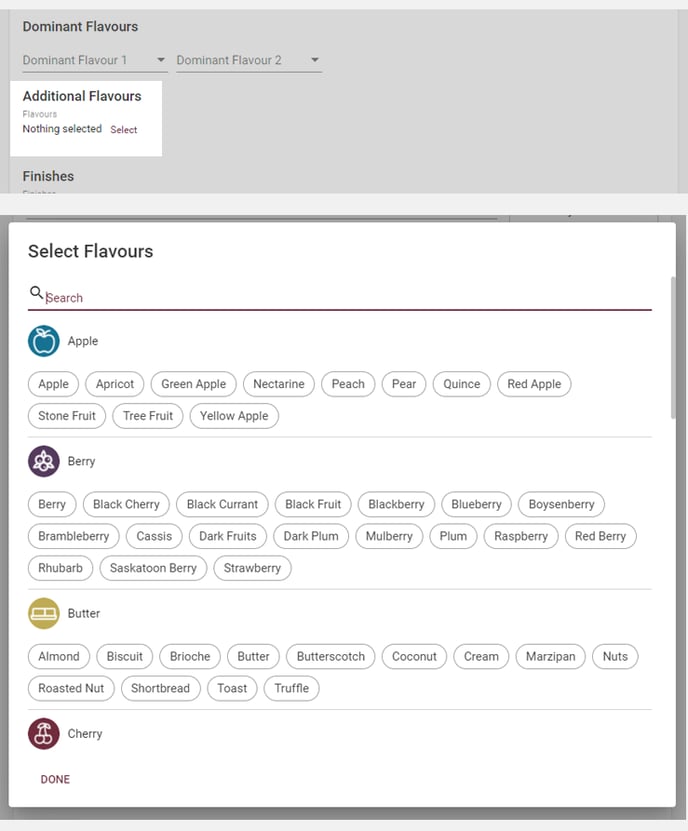 Step 17: Finishes
Add all of the finishes that a Taster will experience with this wine. Click DONE.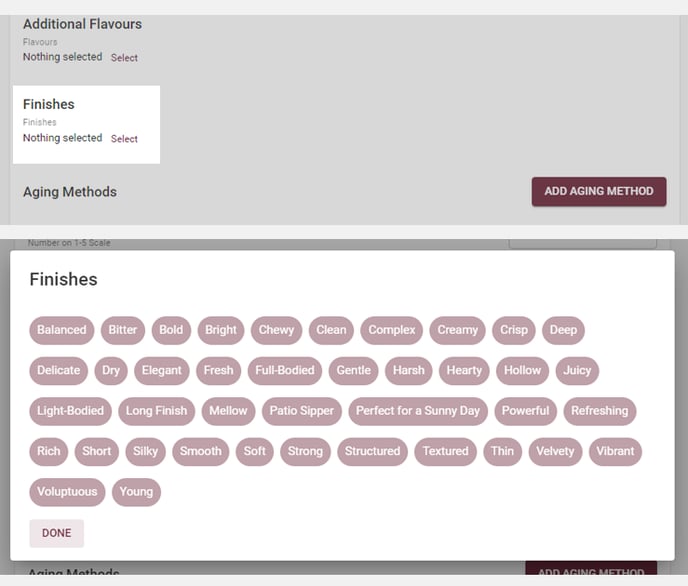 Step 18: Aging Methods
Let Tasters know what the wine was aged in and for how long.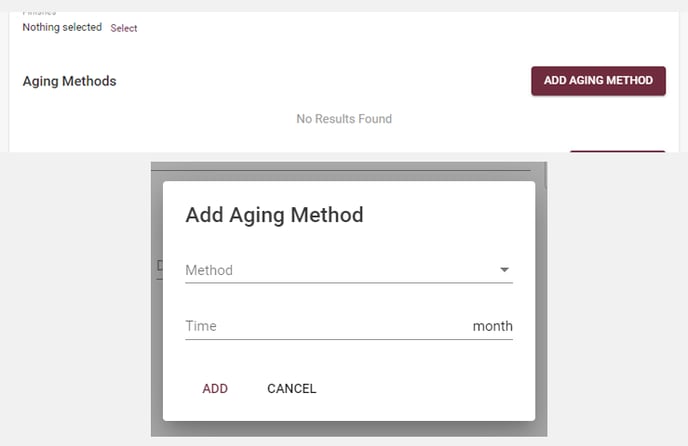 Step 19: Varieties
Add the varieties that make up this wine. For blends, you can add the exact percentage of each grape.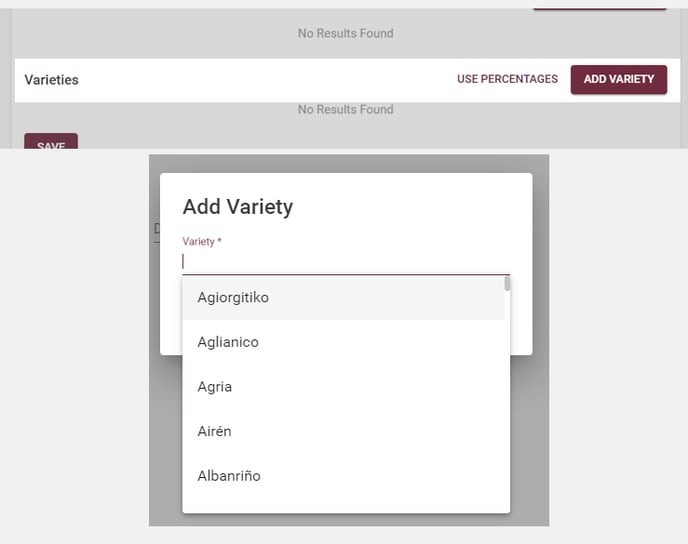 Step 20: IMPORTANT: Save Your Changes
Before proceeding to other tabs, ensure you save your changes by clicking SAVE at the bottom of the page.
Done!
If you have any questions or need help, please submit a ticket and our team will get back to you.